Joyce Knapp
1950 - 2021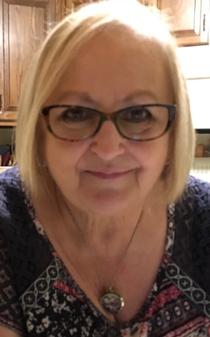 Joyce Alene Knapp
WHEELERSBURG-Joyce Alene Knapp, 70, of Wheelersburg, passed away Friday, April 9, 2021 at SOMC Hospice in Portsmouth. Joyce was born May 19, 1950 in Hamilton County, Cincinnati, OH to the late William T. Green and Helen Loraine Smith Green. Joyce was a high school graduate and employed at Scioto Shoe Mart as a Sales Associate. She was a member of Plymouth Heights Church of Nazarene. In addition to her parents, Joyce was preceded in death by two brothers, William Jr. and Arthur Green. Joyce is survived by her husband, George Knapp whom she married March 17, 1973 in Powellsville, Ohio. Also surviving are a son, Brian (Krystal) Knapp; a daughter, Beth (Randy) McGraw; two brothers, Eddie and Jerry Green; a sister, Linda Davis and four grandchildren, Layken, Adysen, Gabe and Sawyer.
Services for Joyce will be 11:00 am Wednesday, April 14, 2021 at Plymouth Heights Church of Nazarene with Pastor Andy Ramey officiating. Interment will be in Sunset Memorial Gardens. The family will receive friends at the church 6:00-8:00 pm Tuesday, April 13, 2021 and also at the church one hour before the 11:00 am service on Wednesday. Memorial contributions may be made to Plymouth Heights Church of Nazarene. Harrison-Pyles Funeral Home in Wheelersburg has been entrusted with the arrangements. Condolences to the family may be made at www.harrison-pyles.com.
Condolences
Wednesday April 14, 2021
Patricia Thompson
So Very sorry for your loss. Lord wrap the family in your loving arms and give them love, peace, and comfort. Sincerely Tommy and Patty Thompson
Wednesday April 14, 2021
George Kelley
So sorry for your loss. We will be praying for you and your family. Love and prayers, George and Theresa Kelle
Tuesday April 13, 2021
Angie Roberts
Very sorry for your loss. I knew Joyce back in the girl scout days with her and Denise Hayden. Prayers for the upcoming days for comfort. Sincerely, Angie Roberts
Tuesday April 13, 2021
kenneth bennett
George,so sorry to hear about Joyce.If you need anything call me. Kenny
Monday April 12, 2021
Vikki Glass Lawson Flinn
George and family.....so,shocked and saddened to hear about Joyce. She was such a great friend . She loved you so. We shared some fun times together and I was glad I got to see you both at the alumni reunion. You are in my thoughts and prayers! God has another angel in his hands! Peace be with you!
Monday April 12, 2021
Martina (Nagel) Jones
George, Brian, & Beth, I want to send you my deepest condolences for your loss. I will always remember the kindness all of you showed me during our time at Antioch. Love and Prayers. Martina
Monday April 12, 2021
Debbie Armstrong Heater
So sorry for your loss. Praying for you all.