Minnie Moore
1950 - 2021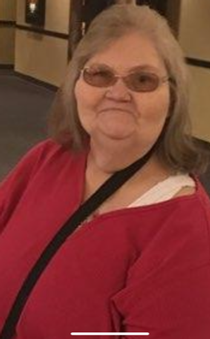 Minnie Louise Holbrook Moore
PIKETON-Minnie Louise Holbrook Moore, 71, of Piketon, Ohio formerly of Portsmouth, Ohio, passed away Monday evening May 24, 2021 at her residence. Minnie was born January 26, 1950 in Carter County KY, a daughter of the late Gussie Holbrook and Minnie Blanche Holbrook. On May 27, 1965 she married her husband of 56 years, Garrett Moore. She was a homemaker, a member of God's House in Piketon, taught Sunday School, which she really enjoyed, a baby sitter and very happily involved in all church activities. In addition to her parents, she was preceded in death by two sisters, Kathy Jean Holbrook and Brenda Sue Holbrook; a father and mother-in-law, Edward Harold and Mary Ruth Moore; her best friend Louise (Henry) Leslie; brother-in-law, Ronnie (Shirley) Moore and brother-in-law, Donny (Kim) Moore. Minnie is survived by her husband, Garrett Moore; three daughters, Joyce (Andy) Poole of Lake City, FL, Brenda (Jim, deceased) Councillor of Piketon and Melissa (David, deceased) Harmon of Piketon; one son, Garrett (Anita) Moore Jr. of Wheelersburg; a brother, Samuel (Darlene) (Sheila, deceased) Holbrook of South Webster; two sisters, Mary (Butch, deceased) Burchett of South Webster, Alice (George, deceased) Roe of Carter County KY; a nephew, who is like a brother, David (Barb) Holbrook of Grove City; a sister-in-law, Sylvia (Jim) Munion of Sciotoville; ten grandchildren, Nicole (Jacob) Johnson, of Lake City, FL, three children, Greg (Danielle) Poole, of Lake City, FL, one child, David Harmon, of Piketon, three children and one of Lake City, FL, Heather (Dustin) Councillor, of Portsmouth, five children, Charity (Aaron) Slusher, of Sciotoville, five children, Megan (Lucinda) Councillor, of Portsmouth, Aja (Amanda) Councillor, of South Webster, two children, Joshua (Sara) Harmon, of Portsmouth, three children, Garrett (Taylor) Moore, of Wheelersburg, two children, Baylee (Kayleigh) Moore, of Wheelersburg, three children. In addition to these, Minnie is survived by many nieces, nephews, family and friends.
Services for Minnie will be 1:00 pm Friday, May 28, 2021 at Harrison-Pyles Funeral Home in Wheelersburg with Pastor Jeff and Louann Leslie officiating. Interment will be in Oakland Cemetery, Carter County, KY. The family will receive friends at the funeral home Friday, 11:00 am until the 1:00 pm service. Condolences to the family may be made at www.harrison-pyles.com.
Condolences
Thursday May 27, 2021
Sigle & Sandy Leslie Chafin
Garrett & Family, We are so very sorry for your loss. Louise was a special lady that we loved very much. I know Mom loved her and you like her own and take comfort in knowing we can have eternity to be together again. Sending much love and many prayers to you guys, so sorry we can't be there with you. Praying for your peace and that you cherish all the great memories you have of good times together. They will bring you comfort in the days to come. ????????????
Tuesday May 25, 2021
Mike and Patty Leslie
We loved Louise, many great memories of her and Mom. Due to health reasons we are unable to attend but we send our prayers and love. Love Mike and Patty Leslie.