Gladys Hamilton
1925 - 2021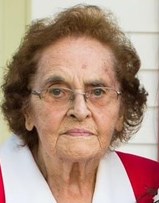 Gladys Hamilton
SOUTH WEBSTER – Gladys Hamilton, 96, of South Webster, Ohio, passed away Saturday, June 12, 2021 at her residence. Gladys was born May 30, 1925 in Salyersville, Kentucky, a daughter of the late Carl and Ollie Conley Cheek. Gladys was a retired butcher/meat cutter of over 62 years, working in various grocery stores within the Scioto County area. She attended South Webster Baptist Church. Gladys had a passion for cooking, gardening and canning. She enjoyed sharing that love with family, friends and neighbors. In addition to her parents, Gladys was preceded in death by her husband, Unior Hamilton, a daughter, Ollie McFann and a grandson Jeffrey Loop. She is survived by one daughter, Peggy (Hank) Perdas of Wheelersburg; two sons, Steve (Debbie) Hamilton of Whitehall and Ronald (Carolyn) Hamilton of South Webster; nine grandchildren, Randy Loop of Columbus, Danny Loop of Lockbourne, Scott (Becky) Perdas of Portsmouth Todd Perdas of Wheelersburg, Jamie (Diane) Hamilton of Grove City, Amy Hamilton of Columbus, Shawn (Tara) Hamilton of Ashville, Cindy (Jarrod) Stanley of Georgetown, KY and Missy (Shawn) Dorn of Wheelersburg; thirteen great grandchildren and six great, great grandchildren.
Services for Gladys will be 1:00 pm Saturday, June 19, 2021 at Harrison-Pyles Funeral Home in Wheelersburg with Rev. Ed Taylor and Pastor Chris Oiler officiating. Interment will follow at South Webster Cemetery. The family will receive friends at the funeral home 2:00-8:00 pm Friday, June 18, 2021 and one hour before the 1:00 pm service on Saturday. Condolences to the family may be made at www.harrison-pyles.com.
Condolences
Saturday June 19, 2021
Julie Bango
Randall, Praying that you and your family are sustained by warm memories of your grannie at this difficult time.
Thursday June 17, 2021
Jeff Patton
My my Sympathy's and Condolences the ALL!!!
Wednesday June 16, 2021
melda cheek-patrick
Aunt Gladys was such a special lady & will surely be missed..You're in my prayers to Jesus..God bless all of you.
Wednesday June 16, 2021
Larry Judy Pitts
Our love, thoughts and prayers go out to all of Gladys's family and friends. She will be dearly missed she was always a good friend and neighbor??3EF8YZ
Tuesday June 15, 2021
Mary Conley Borders.
So Sorry to hear .Gladys was my 1th Cousin on my daddy's side.Dad was a brother to Ollie. My Prayer go out to all the Family.I touched on Facebook with Gladys .Had told her I'd like to stop by the next time I go to Ky Love & Prayers to all the Family.
Monday June 14, 2021
Judy B Rautio
Gladys was beloved by so many people.My mother, Beatrice Hale, respected and adored her. She was married to Beacher Whitley, my mother's brother who passed away before his daughter, Ollie was born. Wish I had gotten to know the lovely lady better. I'm sure she will be greeted by a multitude of loved ones and friends at heaven's door.
Monday June 14, 2021
Maebell Lansing
Sorry to hear about Gladys, she was a friend to me .she was a good person and will be missed. My condolences to the friendly. Maebell Lansing Bonita springs Florida.